Welcome! I do hope you enjoy your visit to this web site. All involved with this project will do our best to make it interesting and informative.
Life is an amazing journey. And while this next statement is a blatant cliché, I use it here without reservation: It seems only yesterday the journey began! This observation is likely a function of growing old, but it is accurate. Those early years of childhood that fashioned my entire being are yet fresh in recall; I visit there regularly. I remember those days of work in the family garden and the poor-dirt row crops and the ragged barn. I recall that simple wood-frame house that was home. I can even now almost hear and see and smell the farm animals and yard dogs that were ever present and key players in life as we then knew it. All are gone now, but they remain fresh in some quiet, reflective corner of memory.  Read more here…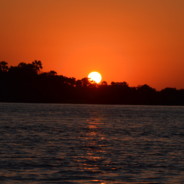 A Sharps in Africa: The Highs and Lows   The Milky Way was at arm's length, asking, it seemed, to be brushed by feeble fingertips that tingled in a night chill. On the edge of that expanse was the Southern Cross, a marvel of nature and symbol of tranquility. I stood in reverent awe, allowing this scene to sink to my very core and bring refreshment from a dour mood that had consumed the day just ended.  There was some transformation as a result, but tranquility didn't immediately become the overriding emotion. The evening in...
read more